I had fun with Taylor!
Before vision therapy it was hard for me to read and write. I didn't like to read and write. Now, I want to because it's easy. I can see better and do everything better. I am reading chapter books and writing lots of sentences. I wrote 10 sentences in my journal all by myself! I like to look at books for fun on my own.
– Jack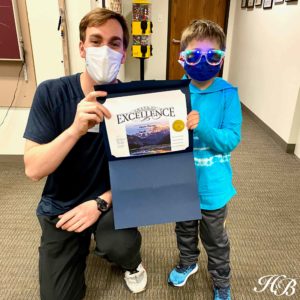 ---
Watching a child learn to read and write is magical, but it is a nightmare when they struggle. I cried the first time Jack brought me a note that he had written all on his own, to tell me thank you for playing with him, he was starving and he loved me. Almost every word was spelled correctly, I could read it, but best of all, he had fun doing it! The journey to get to the simple little note started very rocky, but was made so much better with vision therapy.
When it was time for my son to learn to read, we thought we were ready. We had a complete home library for all reading levels, the traditional flash cards for sight words, and reading games galore. It was heartbreaking when I noticed it wasn't happening naturally for son. My very smart boy was not enjoying learning. Reading is at the heart of all education and my super smart kid was falling behind.
When schools shut down, I was the one working one on one with Jack. Our frustration levels were high. He wasn't remembering words from one line to the next, and missed all the patterns of word families. He struggled so much with sight words. The most concerning thing was how lost he got when reading, He would read out of order and blend sounds from different words. Writing was just torture. I thought I was doing everything wrong and was so mad that his online teacher wasn't more helpful.  Then one day I noticed he couldn't see the letters on our white board. I knew it was time to get to the eye doctor. Sure enough glasses were needed, but there was so much more going on. He couldn't draw his eyes in to do the up-close work required to read or write easily. We were immediately referred to Hellerstein and Brenner Vision Center, PC.
It's easy to be skeptical when being told that vision therapy is needed. I had no idea it was even a thing! Even more so when you find out insurance is not going to cover it and the cost is how much?! Like so many kids, Jack was great at overcompensating and finding ways to work around his issue. He had passed the school and pediatrician eye tests. He was at grade level or above in assessments. Mother's intuition had pushed me to see beyond all that, but my skepticism made me hesitate. However, I was seeing the struggle, and even smelling the stress in my son; yes, stress smells and it is not pleasant. Glasses seemed to be doing nothing. Something was needed to help my son. Finding the team at Hellerstein and Brenner was a game changer. In the time Jack spent with Taylor he has gone from barely being able to focus to write one sentence to filling journal pages no problem. He went from taking forever to get through a very short and easy book to grade level or above chapter books. The stress has decreased significantly and is at a normal 6 year old active boy level. At times, his restlessness is because the school work is too easy and he is ready to move on!
I still wonder if we would have noticed the issue this soon had I not been one on one with Jack. This kind of testing or at least awareness of vision issues should be talked about more at younger ages. Don't wait until your child's grades suddenly tank and your once eager learner checks out. We were so lucky to have dealt with this at a young age for Jack. The staff at Hellerstein and Brenner put both Jack and I at ease. Everything they said and explained was put into words we understood. They were kind and listened and understood all of my concerns. The process was fun and easy. The at home activities and exercises blended easily into our daily routine. Having my son home during this year of the pandemic turned out to be the biggest blessing, but it shouldn't have had to take this one on one time to discover or handle my son's struggles. I would do this all over again no matter what and hope that vision therapy and testing become more common.
Thank you,
Lacey (Jack's Mom) – One grateful Mom!
---