WELCOME TO MY EXPERIENCE WITH HALO LASER TREATMENT TO MY FACE & NECK!
First, the reason why I chose to have the Halo Laser treatment @paoculoplastics:
After discussing my aging skin concerns with one of my trusted oculoplastic surgeons, Dr. Chris Thiagarajah @denvereyeliddoc, he highly recommended the Halo Hybrid Fractional Laser treatment @halobysciton. The Halo is a complete skin revitalization treatment! You see overall improvements in your skin including a reduction of fine lines, reduced pore size, reduction of pigmented spots, and the famous "Halo Glow". The best part is that your skin will continue to improve for months, even after the initial treatment.
DAY ONE (TREATMENT DAY)!
I was extremely nervous and anxious to have the laser treatment, imagining the worst for pain. Paula, the wonderful aesthetician who was doing the treatment, was very calm and sweet and put me at ease.
First, the numbing cream was applied for a half an hour. There was a slight burning sensation as it took effect.
Next, I was treated with the BBL laser in specific areas of highly pigmented skin, wearing eye protection of course! This laser did not hurt at all, just a zapping feeling.
Then came the Halo laser! At first it was a breeze. With each pass of laser was repeated in the same area, it did become uncomfortable, but tolerable. Once each area was complete, there was a burning sensation much like a sunburn. I had control of a hose of cooling air that I could direct as I wished. This helped tremendously.
I was grateful that it was a cool January day in Denver when I exited the building, it felt great on my skin. I rode home in the backseat as to avoid the sunlight through the windshield (my husband drove me to the appointment). With the windows cracked I could feel the cool air while we were moving, hating every red light! When I arrived home I placed a personal fan next to me to continue feeling cool air movement. This burning sensation only lasted about 2 hours and then I felt completely comfortable. At 3 hours after the laser I was allowed to apply the provided @EltaMDskincaremoisturizer as needed, making sure to keep my skin hydrated and protected. That night I used the provided @EltaMDskincare gentle cleanser, which smells wonderfully!
Redness is normal and expected. Pinpoint bleeding can occur. Swelling is common and expected, especially under the eyes.
After BBL/IPL Laser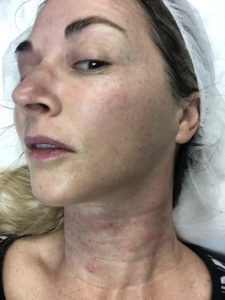 Immediately After Halo Laser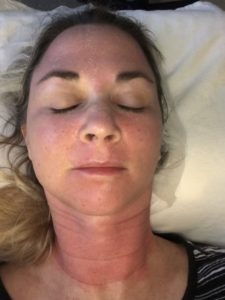 Car Ride Home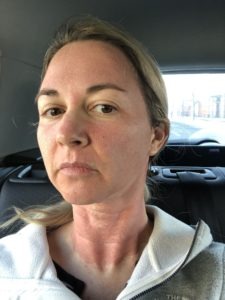 When I Arrived Home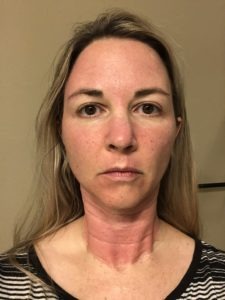 I woke up a little swollen especially under my eyes. I started to notice tiny dark spots and bronzed appearance to the treated skin. This is called MENDS (microscopic epidermal necrotic debris). In areas where there is more pigment, the MENDS contain large amounts of melanin. This causes the skin to have the bronzed look and small areas appear crusted. This is a part of the healing process where the treated tissue is working its way out of the body as new fresh skin is regenerated. My skin was dry and had a sandpaper texture and began to peel. I kept using the @eltamdskincare moisturizer and gentle cleanser.
Day TWO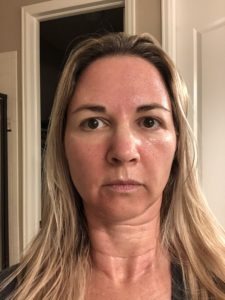 The redness was really improving! In the evening my face started to itch. This is normal during the healing phase. It is important to resist itching the new skin as scarring can occur. I continued to keep my skin hydrated with the @eltamdskincare moisturizer, which helped alleviate some itching.
DAY THREE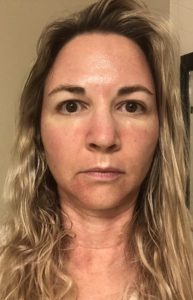 The itching was already much improved, but I still noticed the peeling skin. I started to see and feel my new soft skin and almost invisible pores! I still continued the @eltamdskincare regimen. During the whole process I used a clean pillowcase each night as recommended to help prevent infection.
DAY FOUR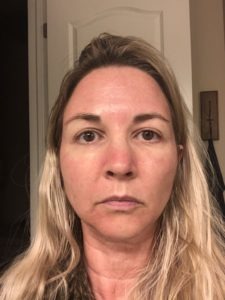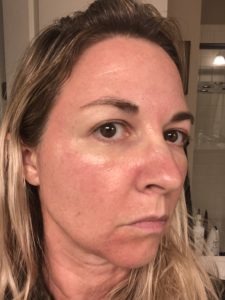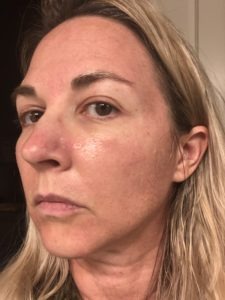 I am so thrilled with the results so far!
My skin will keep improving texture and tone over the next few months after the @halobysciton. I am and will continue to make sure to wear @eltamdskincare tinted broad-spectrum SPF 40 sunscreen every day to protect my new skin!
DAY TEN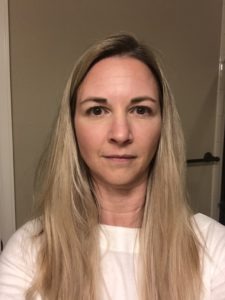 HUGE SHOUT OUT and SPECIAL THANKS to Paula @paoculoplastics and Dr. Thiagarajah @denvereyeliddoc and for their AMAZING care and patience with me through the Halo Laser treatment process!!
And thank you all for following along on my journey, hope you are each as excited about my results as I am!
THANK YOU,
DR. GRELL