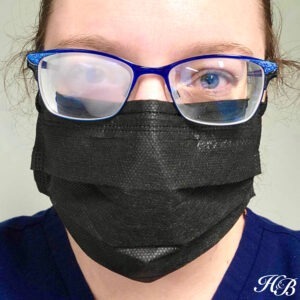 Here are some tips to reduce or prevent fogging of your glasses while wearing a mask:
IMPROVE THE FIT OF YOUR MASK
By adjusting how snug the mask is against your nose and cheeks, you can prevent air from escaping through the top of your mask.
Try adjusting the ear loops or adjusting the ties to tighten the mask.
Consider decreasing the size of your mask if possible.
MOLD YOUR MASK TO YOUR NOSE
Adjust the bendable metal strips to mold to your nose to reduce air flow through the top of your mask.
If you are using a homemade mask or a mask that does not have a bendable metal strip consider adding a piper cleaner or metal twist tie to create a similar effect.
Use your glasses to make a similar effect – If possible, pull your mask up and have your glasses sit on the top your mask to hold it against your nose/across your bridge better. The weight of your glasses can help to block air flow out the top of your mask.
WASH YOUR GLASSES
Use lotion-free, non-citrus based dish soap and warm water to clean your glasses, and allow the glasses to completely dry before using. The ingredients of dish soap can leave behind a thin film that can help prevent fogging.
TAPE YOUR MASK
Use medical grade or athletic adhesive to tape your mask across the bridge of your nose and across the top of your cheeks.
Be wary of the type of tape you use (avoid duct tape!), as tape can be harsh on your skin.
First, test a small portion of tape against your skin to confirm you do not develop any allergic reactions before using with your mask.
ADD TISSUE
Place a small piece of folded tissue under your mask at the bridge of the nose. This tissue can act as a sponge and absorb the moisture from your breath rather than the moisture fogging your glasses.
USE COMMERCIAL ANTI-FOG PRODUCTS
Make sure to read the instructions for proper use as each product is different.
Read the fine print as some anti-fog products (wipes, spray, pastes) cause damage to lens coatings (like anti-glare coating). If you are unsure if the product you have will cause damage please call our optical to confirm!
Hellerstein & Brenner Vision Center, PC is excited to support "FOG STOPPER." This awesome commercial anti-fog product is great for your glasses (safety eyewear, swim googles, sports googles, etc) without causing damage to coatings on your glasses. Ask our staff what they think as most are using it themselves. VISIT OUR OPTICAL TO GET YOUR OWN BOTTLE.
DON'T ADD SPIT OR UTILIZE OTHER HOME REMEDIES
Spitting on your lenses has been greatly suggested as it is a trick that often works for goggles for swimmers and scuba divers, but please avoid doing this as we want to prevent the spread of germs.
Avoid trying home remedies such as shaving cream, baby shampoo, vinegar, and toothpaste, as such products can cause damage to lens coatings and often the required amount to prevent fogging may leave the lenses/your vision blurry.
WEAR CONTACT LENSES
If these tips do not seem to work for you or last long enough, and you have a prescription for contact lenses, use your contacts! Remember that at this time there is currently no scientific evidence of an added risk for contracting COVID-19 when wearing contact lenses. Contact lenses are safe. If you want to learn more about contact lens safety visit here.
If you don't have a contact lens prescription but are interested, reach out to your local optometrist for a contact lens fitting.