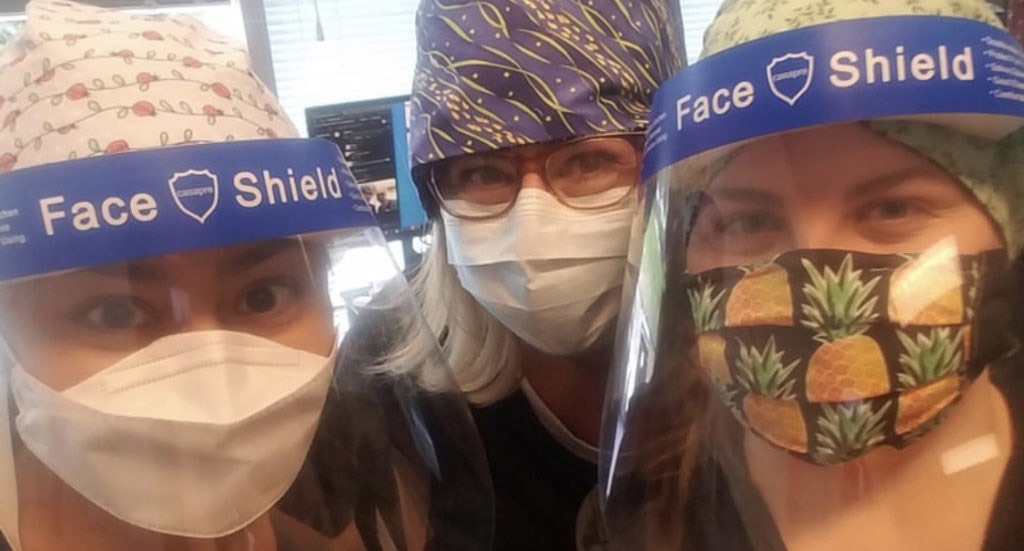 COVID-19 Office Procedures
Our top priority remains the safety of our patients and our staff members
We have officially RE-OPENED for routine eye care (starting April 27, 2020) and in-office vision therapy sessions (starting May 4, 2020)! We can't tell you how happy we are to be able to return to what we are passionate about – caring for our patients! We have really missed you and want to thank you for your patience and understanding during this time.
Our top priority remains the safety of our patients and our staff members.
Please review our new protocols in order to streamline your visit. The main protocols we have implemented to help reduce unnecessary contact, and maintain stringent cleaning protocols are listed below.
Please Follow All of Our Safety Protocols
Masks: All doctors, staff, and patients will be required to wear masks. We ask all patients to wear their own masks.
Face shields: Most of our providers will be wearing face shields during patient care (examinations and vision therapy sessions). At this time face shields are not required for our staff to wear as it is not required by CDC or AOA. If you would prefer your provider to wear a face shield, please let your provider know and we will be happy to do so.
Touch-Free Check-In: At the time of your appointment please head directly in and check-in with our front desk; your doctor/technician will be ready for you shortly (This is for primary care patients only). For vision therapy patients, please remain in your car and text your therapist (each has a specific number) at the time of your arrival.
Online In-Take Forms: We ask that all patients complete our online registration forms prior to their appointment. Click here for the online registration forms.
Temperature Check: All doctors, staff, and patients will have their temperatures measured when entering the office. Any patient with a high temperature will be asked to reschedule. Any staff member with a high temperature will be sent home.
Screening: All patients and staff can expect to answer a few survey questions about their exposure to coronavirus. We ask that if you or members of your family are sick or have symptoms including: fever, cold, cough, shortness of breath, loss of smell, gastrointestinal concerns, or other flu like symptoms that you please stay home and reschedule your appointment. And as always, if one of our staff or their family member is sick or have symptoms they will be staying home.
Limited Examination Room Attendance: To reduce the amount of patients in the office, we ask that patients be seen alone. Patients under the age of 18 may have one parent or guardian to accompany them. (Special accommodations or circumstances will be addressed on a case by case basis.)
Food and Drink: We ask that you do not eat or drink while in our office as it requires you to remove/lower your mask.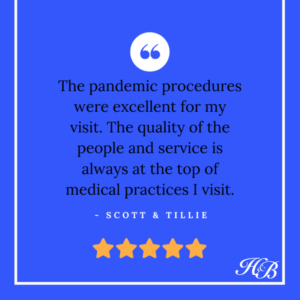 Cleaning: Increased cleaning and disinfecting protocols will be followed. All patient care areas will be thoroughly cleaned between patients. All common areas (such as door knobs, handles, light switches, etc.) will be disinfected through-out the day. All common use vision therapy equipment will be thoroughly cleaned between each patient.
Hand-washing: Patients will be asked to wash their hands prior to being seated in the examination room or starting vision therapy. Staff has increased hand washing and will at least wash their hands prior to each patient encounter. Hand sanitizer is placed through-out the office, please feel free to use as needed.
Social Distancing: Social distancing will be enforced with modified patient flow to ensure safety and the virtual check-in. Please observe 6 feet social distancing to the best of your ability while at the office. There will be brief procedures where we must be closer in order to complete portions of the eye examination or vision therapy activities.
In-office contact lens evaluations have resumed. Call our main phone to schedule your appointment today.
We are happy to continue "safe no-contact delivery" of your contact lenses with free shipping! You can now order your contact lenses conveniently from your home through the H&B website. If you would like to order contact lenses, please click here to order swiftly online. If you have any difficulties or concerns please call (303) 850-9499 or email main@hbvision.net for any contact lens related questions.
Contact lens hygiene is extremely important, especially now. Visit here to learn the important facts contact lens safety.
OPTICAL DEPARTMENT (GLASSES)
Our optical is now operating by appointment only for patients not seen for an examination on the same day. To schedule an appointment (to shop and/or pick up your glasses) please call the optical department and speak to one of our opticians at (303) 850-0924.
You can now browse our expansive frame selection from the comfort of your home by visiting our awesome VIRTUAL OPTICAL.
We have delayed the Hellerstein & Brenner Vision Center, P.C.'s Annual Trunk Show that typically occurs each May to ensure patient and staff safety. We are excited to be working on a VIRTUAL TRUNK SHOW. Watch out for details to come!
Glasses hygiene is extremely important, especially now. Visit here to learn the best ways to clean your glasses.
Are you struggling to combat your glasses fogging while wearing your mask, visit here for tips against glasses fog. Our optical is excited to promote Fog Stopper, a product that prevents glasses fogging without damaging your anti-reflective coating.
VISION THERAPY/TRAINING & VISUAL REHABILITATION
We could not be more thrilled to return to in-office vision therapy sessions!
Our greatest priority continues to be your/your child's safety and therefore taking all necessary steps. Our team has diligently worked to prepare the Vision Therapy department to abide by medical social distancing and cleaning recommendations. Please review the following protocols that are in addition to our full office protocols:
Waiting Room: Though we have updated the waiting room to adhere to social distancing recommendations and all chairs are being regularly cleaned, we are requesting that patients/parents do NOT wait in the waiting room. We recommend either waiting in your car or the atrium.
Virtual Check-In: Patients are asked to remain in their car and text their specific therapist's number with their name upon arrival. When we are ready for you to enter the building, we will text back instructions. This process will allow us to reduce the amount of patients in the waiting room. If you do not receive a response from your therapist by 5 minutes after your session start time, we ask that you please knock on the therapy door to alert us.
Social distancing: Will be maintained during your/your child's session. We have reconfigured the vision therapy room to allow for all therapist/patient duos to maintain at least 6 feet from one another. There will be brief procedures where we must be closer in order to complete vision therapy activities properly.
Cleaning: All shared equipment will of course be sterilized prior to and after each use.
Vision Therapy bags: Patients are encouraged to continue to bring their VT bags so that they can use their personal equipment rather than shared equipment. During the sessions, only the patient will touch the bag and its contents and there will be a clean area provided for each patient's bag that will be disinfected after every use. Patients/parents are welcome and encouraged to switch or wash bags as they see necessary
End of Therapy Sessions: Therapy sessions will continue to be 45 minutes in length. In order to adhere to our cleaning protocols and additional steps we are taking to keep everyone safe, we ask that you return to the building or parking lot by 10 minutes prior to the end of your child's therapy session. Your therapist will communicate with you at the beginning or towards the end of the session when to return to the office to review activities as needed. We ask that only one parent or guardian per patient come back to the therapy room.
Touch-Free Billing: In order to streamline our check out process, reduce contact with staff, and reduce the overall number of patients in the office we ask that all patients have a credit card on file for billing. Please discuss the details with your therapist.
Loaned Equipment: We are being strict with cleaning protocols with loaned equipment that is returned. While at home with this equipment (such as lenses, prims, and flippers) please avoid using harsh chemicals. You may use soap and warm water on most of this equipment.
Remote Optometric Vision Training: We will be continuing Remote Optometric Vision Training on a case to case basis. If interested, please let us know.
We appreciate you/your child as our patients and are excited to be see you and your family back in our office! If you have specific questions, please email us at visiontherapy@hbvision.net.
Hellerstein and Brenner Vision Center P.C. is thrilled to be able to resume routine care as outlined by the Public Health Order 20-29. This order states that: "Effective April 27, 2020, Voluntary or Elective Surgeries or Procedures at Medical, Dental, and Veterinary settings, including healthcare facilities, offices or practices, surgical centers, hospitals, or any other healthcare setting (Facilities or Facility), may restart in accordance with the priorities, requirements, and specific criteria below." For more information regarding this order, visit here.
Our safety protocols are frequently updating to best protect our patients and staff, so please visit our website, our Blog, and our social media accounts (Facebook, Instagram, and Twitter) for the most recent updates. Please reach out to us with any questions or concerns you may have.
Last Revised  11/19/2020